Learning how to cook cracked wheat can add a lot of variety, and nutrition to your diet. Cracked wheat is a super versatile grain with a slightly chewy texture, that can be used in many different ways. It is high in fiber and nutrients.
Jump to:
What is Cracked Wheat?
Cracked wheat (sometimes called broken wheat) are whole wheat berries that have been broken down into smaller pieces (similar to bulgur wheat). You can get cracked wheat in different sizes; fine, medium and coarse being the most common. Cracked wheat is used in many different cuisines around the world, including mediterranean and middle eastern cuisine. It is a nutritious whole grain that is high in fiber, protein, and essential vitamins and minerals. Cracked wheat can be cooked and used in dishes such as salads, pilafs, and soups. It can also be used as a base for breakfast cereals, or ground into flour for baking. The slightly nutty flavor pairs well with many things.
How to Make Cracked Wheat From Wheat Berries
Cracked wheat can be made from different types of wheat. It can be made from hard red, hard white, kamut or durum wheat. If you are going to make your own you can use whatever wheat variety you like.
There are a few different things you can use to make your own cracked wheat berries at home.
Coffee Grinder
Place about ¼-⅓ cup whole wheat berries into your grinder and pulse a few times until the wheat is broken into smaller pieces. Then run the wheat through a mesh strainer with medium size holes, this will sift out the fine particles. Place the larger chunks of wheat back into the grinder and pulse a few more times. Repeat the sifting and grinding process until the large pieces of wheat are the size you want them to be (usually 2-3 times is good for a coarse grind). The fine wheat that you sift out makes excellent Cream of Wheat style breakfast cereal.
High Powered Blender
Place about 1 cup of wheat berries into the blender, cover and blend on high speed for about 30 second intervals until the majority of the wheat berries are the size you want them to be. Run the cracked wheat through a mesh strainer with medium size holes to sift out the fine particles, it makes great cream of wheat style cereal.
If you're using a single serve, cup style blender then you will want to do about ½ cup wheat berries and pulse for 5-10 seconds at a time, then proceed as mentioned above.
Note: We do not recommend using a food processor. In our experience it just scratches the grains and doesn't actually break them into pieces. Our food processor didn't like it at all, it started to smell funny.
Stone Grain Mill
A stone grain mill is great if you want to make a larger quantity of cracked wheat, or just make it faster. You will have to consult the user manual of your particular mill to see how to adjust the stones for making a coarse cracked grain. You will probably want to sift out the smaller pieces, like you would if you're using a coffee grinder or blender. Unless you are making cracked wheat cereal then you could leave them in.
What's Cool About This Recipe
Many different uses: Cooked cracked wheat can be used in many different ways; a base for grain bowls, on salads, as a replacement for rice, for breakfast cereal, and more.
Super easy to make: You only need 2 ingredients to cook cracked wheat.
Very customizable: you can use hot water, cold water, vegetable stock, chicken stock or whatever liquid you want for cooking.
We grew up eating cracked wheat cooked like porridge for breakfast. We would usually serve it with sugar, milk and whole wheat muffins.
One of our favorite ways to use cooked cracked wheat is as a replacement for rice in pilafs and such.
Ingredients and Substitutions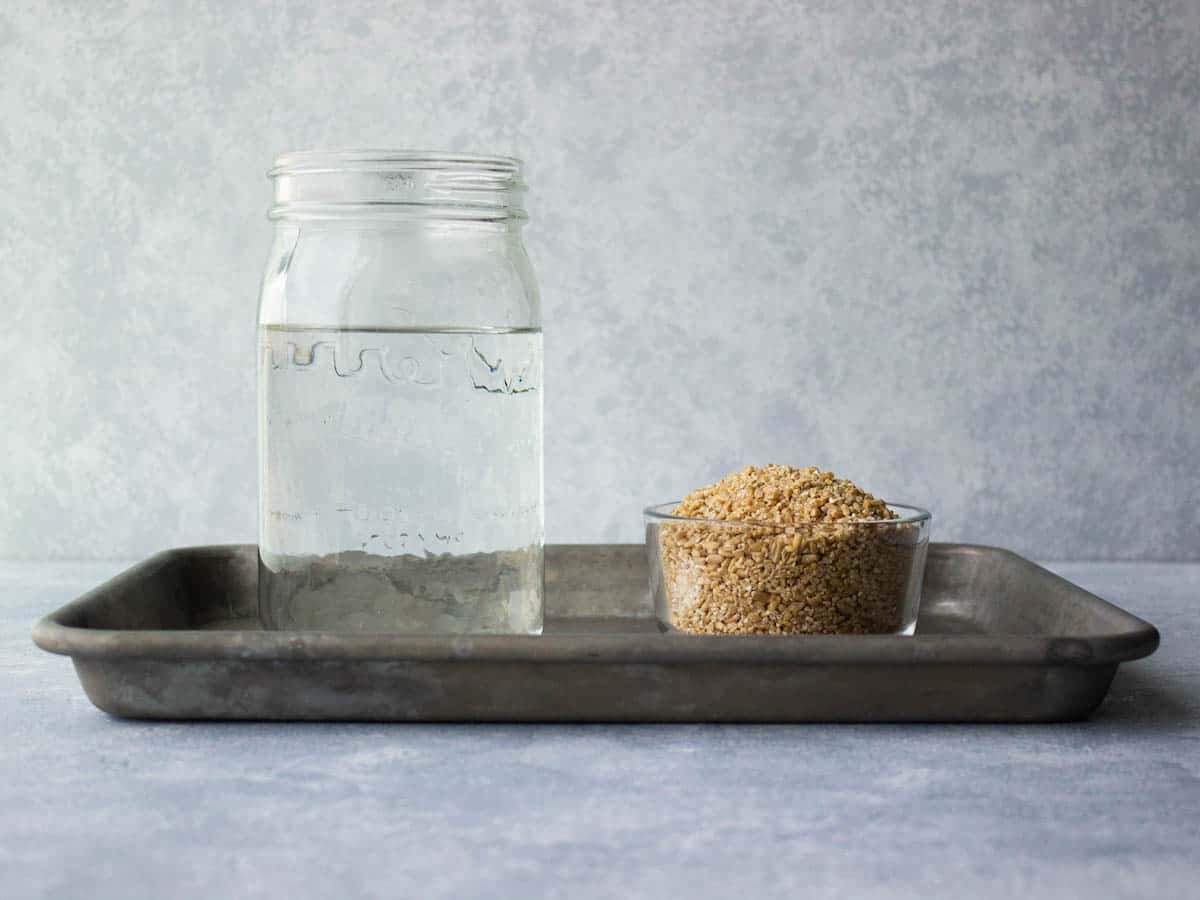 Cracked or whole wheat: You can use any type of wheat if you're making your own cracked wheat.
Water: Nothing fancy here, just whatever you normally cook with.
Salt: Just for flavor and is optional.
See recipe card for quantities.
Equipment
If you want to make your own cracked wheat from whole wheat berries you will need one of the following
Coffee grinder
High powered blender
Stone mill
Variations
Add a pat of butter or a drizzle of olive oil either before or after cooking.
Use chicken, beef or vegetable broth as the cooking liquid.
Add fresh or dried herbs after cooking.
Add some vanilla extract and spices (eat for breakfast).
Instructions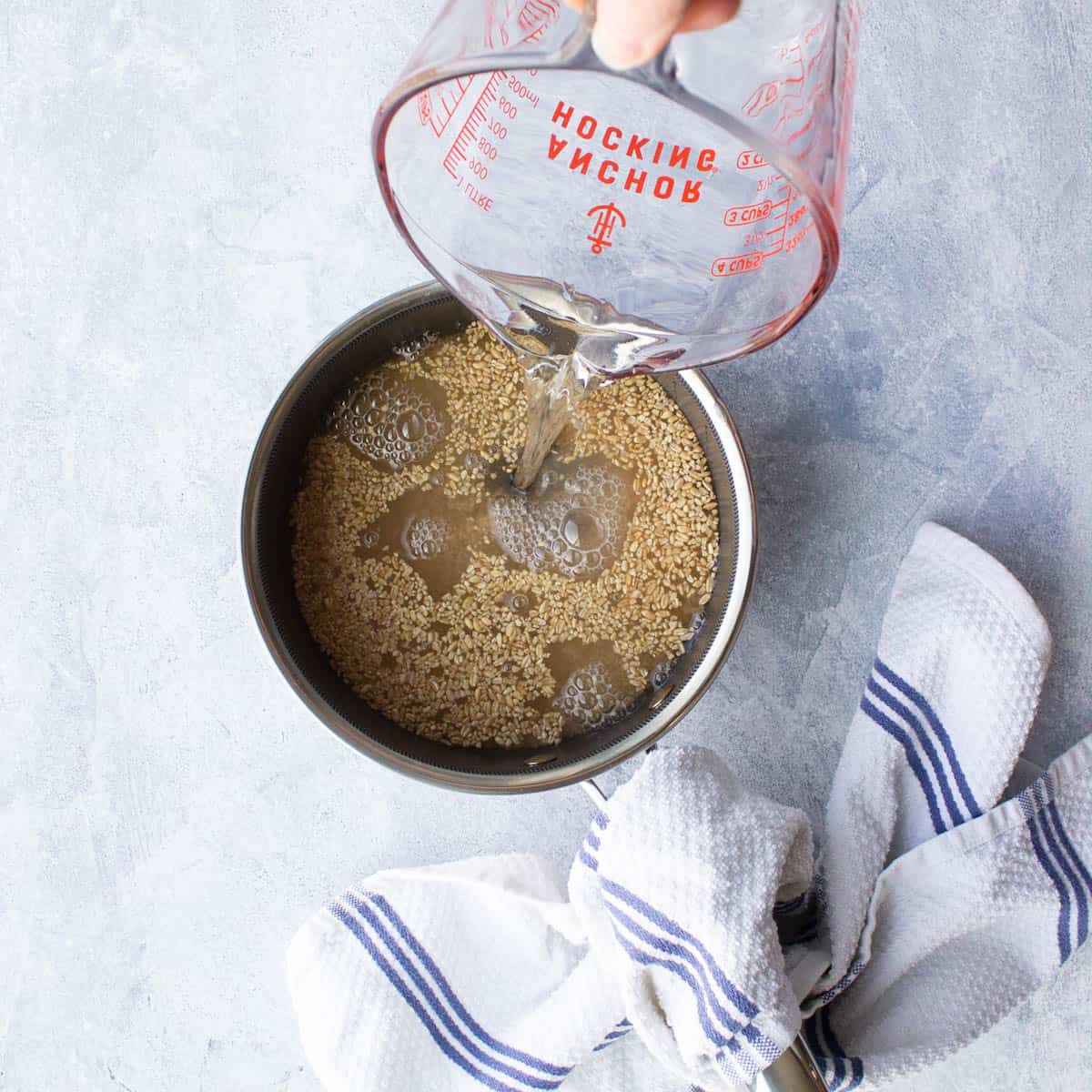 Place the cooking liquid, cracked wheat, and salt in a pot. Cover and bring to a boil. Reduce the heat to low and simmer for 25-30 minutes or until tender.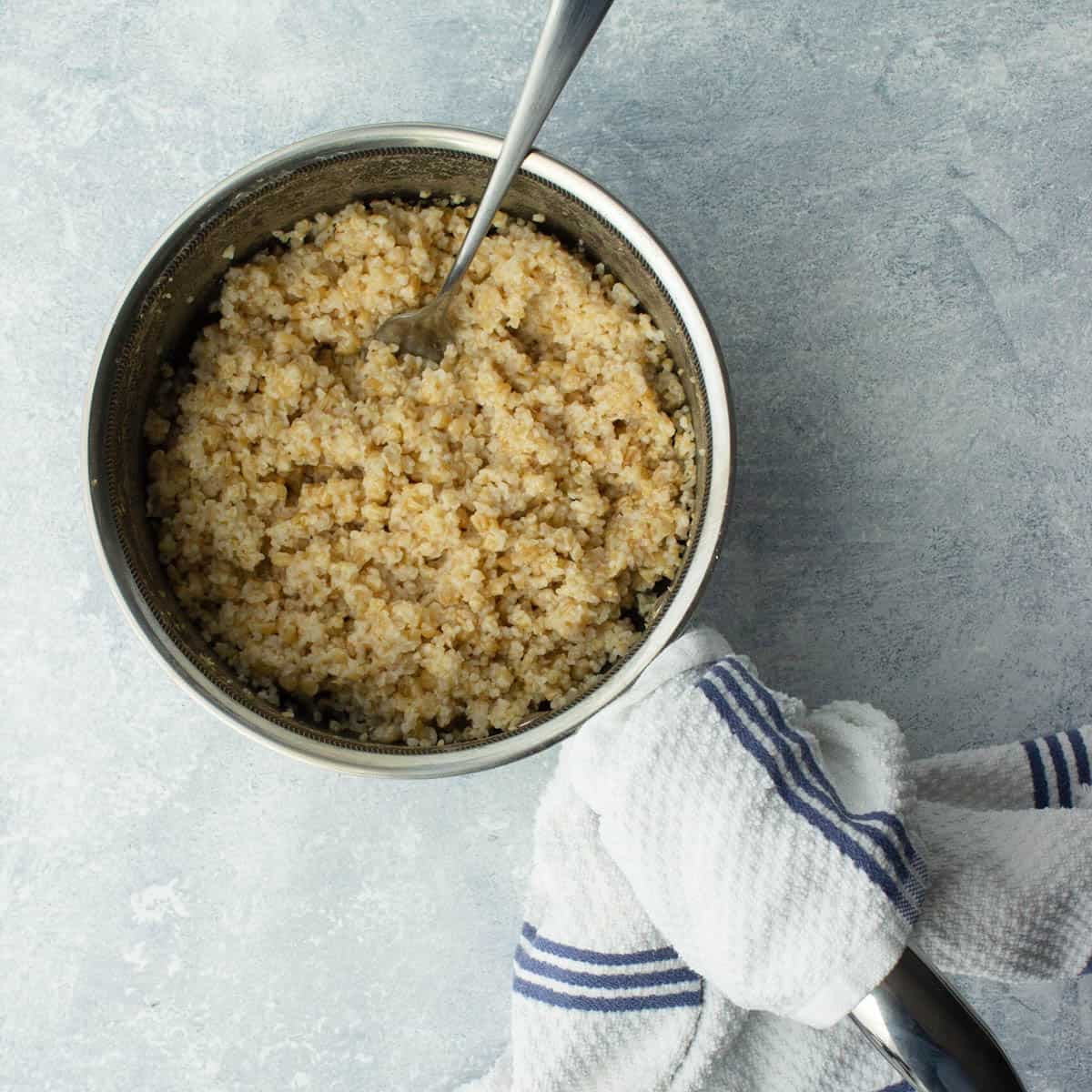 Remove from the heat and fluff with a fork, like you would rice. Serve hot.
Note: The ratio of water to cracked wheat (coarse grind) is 1:3 so for 1 cup of cracked wheat you will need 3 cups of water.
Serving Suggestions
Make a cracked wheat pilaf: Saute some vegetables in a frying pan (spinach, bell pepper, asparagus, onion, garlic, cabbage, whatever you have), add some cooked protein, cooked cracked wheat, butter, salt, pepper and whatever seasonings you like (paprika, chili, herbs, cumin). Finish with a squeeze of lemon or lime juice. Toss it all together and you have a delicious lunch or dinner.
Serve for breakfast with fresh fruit and yogurt.
Sprinkle over your favorite salad.
Add to soups and stews.
Use cracked wheat as a side dish for grilled meats or roasted vegetables.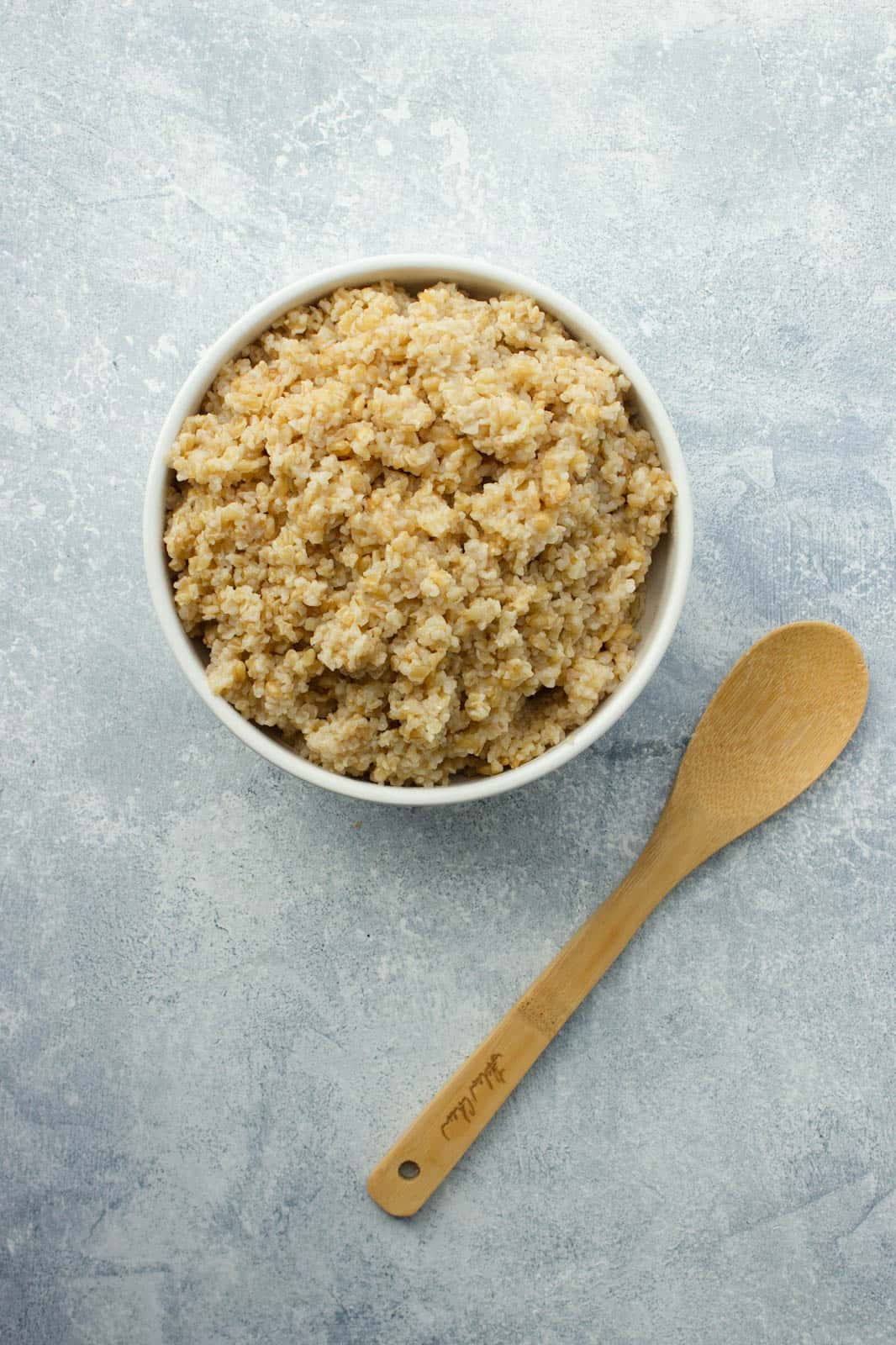 Storage
Cool the cooked cracked wheat to room temperature, and store in an airtight container in the refrigerator for 5-7 days.
To reheat, add a splash of water or stock and microwave for 1-2 minutes or heat on the stove.
How to Freeze
Cool to room temperature then place in a freezer safe container or bag and freeze for 3-6 months.
Thaw in the refrigerator.
Tips From Our Kitchen
Use a rice cooker or Instant Pot: Using a rice cooker on the brown rice setting or instant pot on the porridge setting works great for cooking coarse cracked wheat.
FAQ
Where to buy cracked wheat?
You can find it in some grocery stores (check the bulk foods section). You can also look at health food stores. Or you can always find it online.
What is the difference between cracked wheat and bulgur?
Cracked wheat is made from raw whole wheat berries. Bulgur is made from cracked wheat that has been partially cooked and dried.
Does cracked wheat have gluten?
Yes, cracked wheat is made from wheat so it does contain gluten.
Related Recipes
📖 Recipe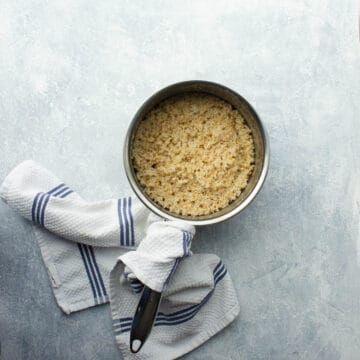 How to Cook Cracked Wheat + How To Crack Wheat
This is an easy guide to cooking cracked wheat. Once it is cooked there are a variety of ways it can be used. Use it as a substitute for rice, in salads and grain bowls. Eat for breakfast with fruit and yogurt or brown sugar and pecans. The sky's the limit!
Print
Pin
Rate
Equipment
Grain mill, coffee grinder or high powered blender

if you're cracking your own wheat
Ingredients
1

cup

Cracked wheat

coarse

3

cups

Water

pinch

Salt

optional
Instructions
Stove Top
Combine all the ingredients in a pot. Cover and bring to a boil. Reduce heat to low and simmer for 25-30 minutes or until tender.

Remove from heat and fluff with a fork. Add any add-ins you like and serve.
Instant Pot
Place water, cracked wheat & salt into the instant pot and cook on high pressure for about 12 minutes. We used the porridge setting.
Rice Cooker
The brown rice setting on the rice cooker we have works great.
Notes
The cracked wheat to water ratio for cooking coarse cracked wheat is 1:3. 1 part cracked wheat to 3 parts water will give you a consistency like rice. If you want it a little wetter or a littler drier than adjust the amount of liquid.
Keep an eye on it while it is cooking, if your heat isn't low enough to keep it at a simmer than it can run out of water and burn before it is cooked. If it looks like it is running out of water then just add a touch more.
Nutrition
Serving:
0.75
cup
|
Calories:
120
kcal
|
Carbohydrates:
26.6
g
|
Protein:
4.3
g
|
Fat:
0.5
g
|
Sodium:
13.1
mg
|
Fiber:
4.4
g
|
Iron:
0.9
mg
We calculate these nutritional facts using an estimate and they can vary drastically between ingredients used and measuring technique. So, they are not intended for medical use.