This low sugar ice cream recipe is so creamy and dreamy. It is made with a custard base and freezes in an ice cream machine. It is sweetened with maple syrup making it a healthier ice cream recipe.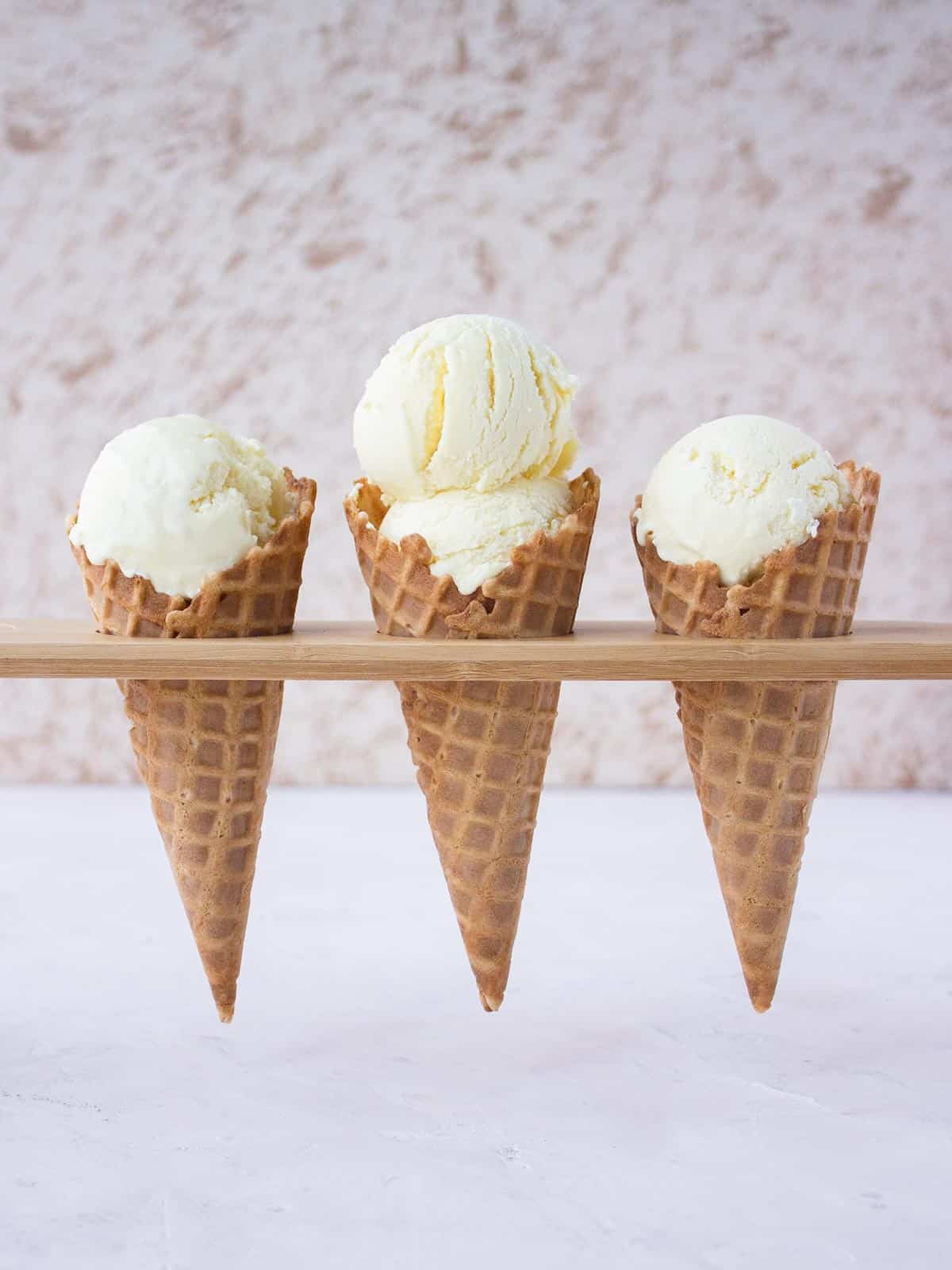 You can make all kinds of different flavors with this ice cream base. We have tried vanilla, chocolate and strawberry. The chocolate version has got to be the most delicious chocolate ice cream we've ever tasted, although they are all delicious.
Jump to:
We like to reduce the sugar in most of our desserts. Like in our healthier chocolate cake, apple crisp and no bake cookies. We love desserts but they can't be too sweet. There is a fine line between sweet enough and not sweet, we try to hit that sweet spot in all our dessert recipes.
This low sugar ice cream recipe is just sweet enough, and definitely not too sweet. And the cool thing is, you can easily adjust the sweetness to suit your taste by adding more or less sweetener. If you're trying to reduce your sugar intake you can get used to less sugar by slowly reducing the amount of sugar you put in things.
This homemade ice cream is the perfect sweet treat for a hot summer day, whether you eat it in an ice cream cone or serve it on top of a dessert like berry crisp.
What's Cool About This Recipe
Low sugar: This ice cream has a lot less sugar than traditional ice cream recipes. You can easily adjust the amount of sweetener to suit your taste.
Creamy and Delicious: We use a custard base along with heavy cream to make this ice cream nice and creamy.
Simple Ingredients: Only 6 ingredients are needed to make this ice cream.
Healthy: This healthier ice cream recipe is sweetened with maple syrup and has way less added sugar than regular ice cream.
Uses the whole egg: We use the egg yolks and whites in the custard for this ice cream. We didn't want leftover egg whites, so we decided to just try putting the whole egg in and see what happened. And the best ice cream ever happened LOL.
Ingredients and Substitutions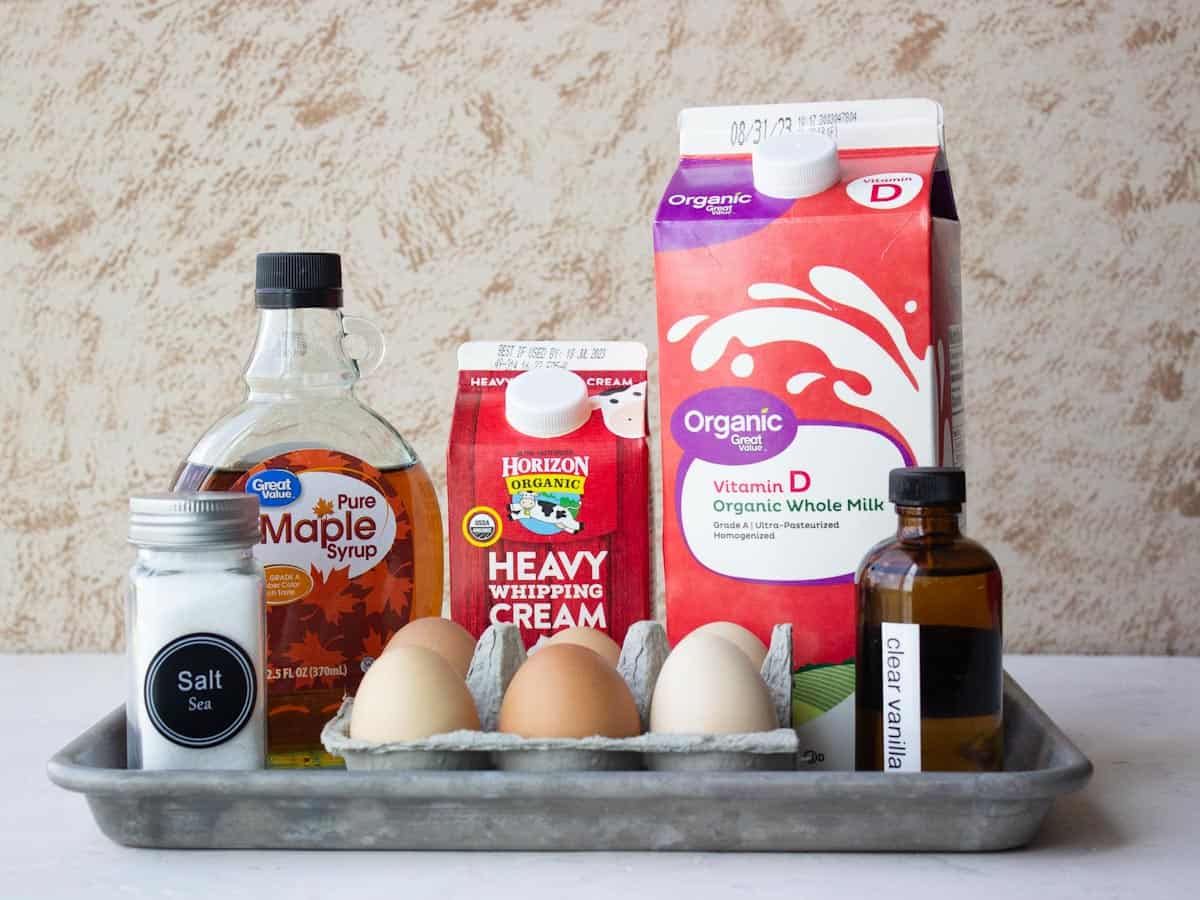 Heavy cream: This will give the ice cream that luxurious creamy texture.
Whole milk: To reduce the amount of ice crystals that may form in the ice cream we recommend whole milk.
Eggs: We use the whole egg in this recipe.
Salt: This is optional, it helps bring out the flavors and you only need a tiny bit.
Pure maple syrup: Maple syrup is our sweetener of choice for this reduced sugar ice cream, but you can use organic granulated cane sugar.
Flavors: We have tried this ice cream with these flavors and they are all delicious.

Vanilla: Pure vanilla extract, we use clear vanilla but regular will also work.
Chocolate: Unsweetened cocoa powder
Strawberry: Strawberries, we used fresh but you could also use frozen.
See recipe card for quantities.
Variations
Add your favorite mix-ins (crushed cookies, chunks of candy bar, brownie chunks, chocolate chips). Fold them in after the ice cream is done churning.
When you are transferring it from the ice cream machine to your freezer container, you can layer the ice cream with your favorite ice cream toppings like caramel sauce, or fudge sauce and your mix-ins.
Try a different fruit, like peach instead of strawberry
Use vanilla bean paste instead of vanilla extract. Start with 1-2 teaspoons and add more if needed.
Instruction Photos
Cook the milk, eggs and salt in a saucepan over low heat until thickened enough to coat the back of a spoon.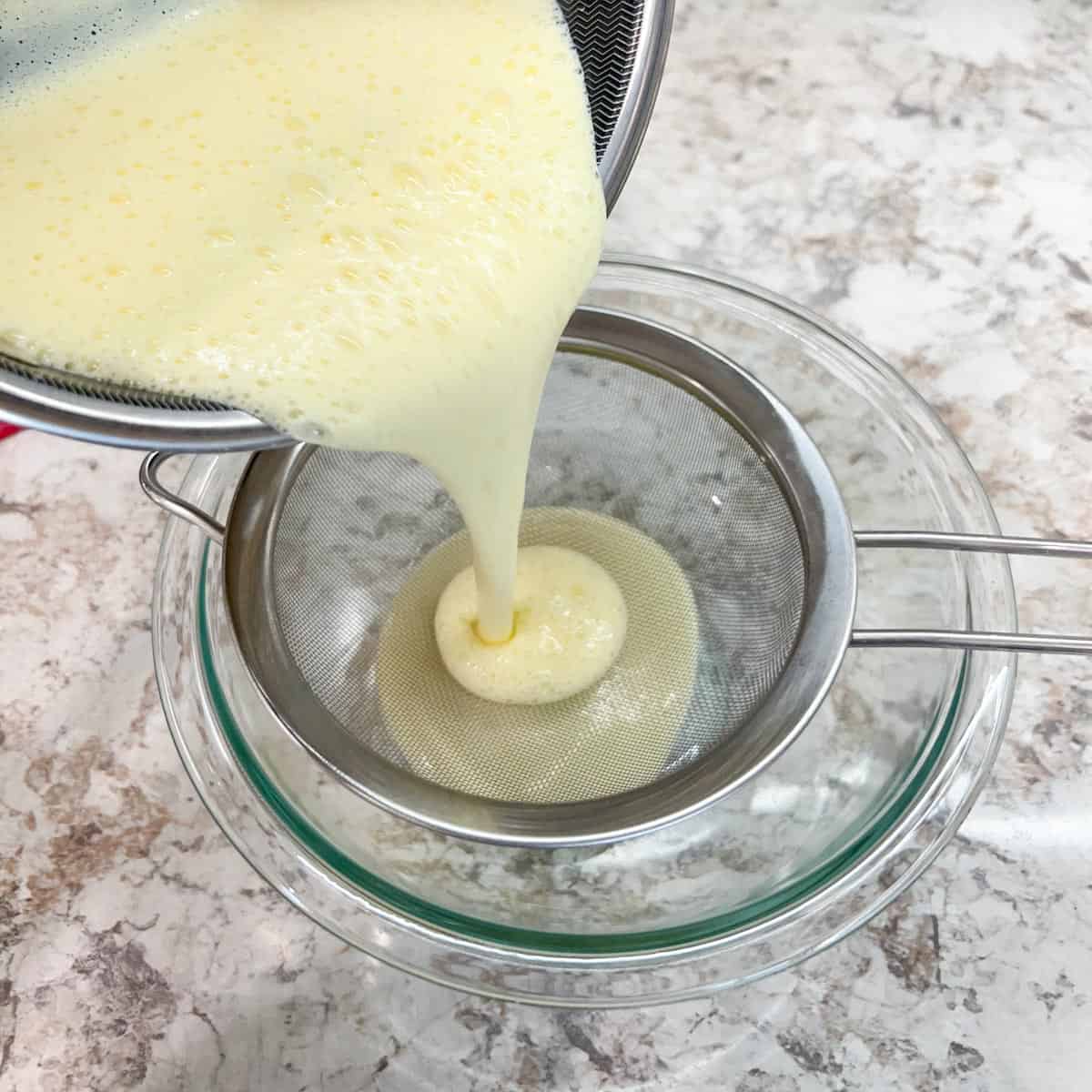 Pour through a strainer to remove any random bits.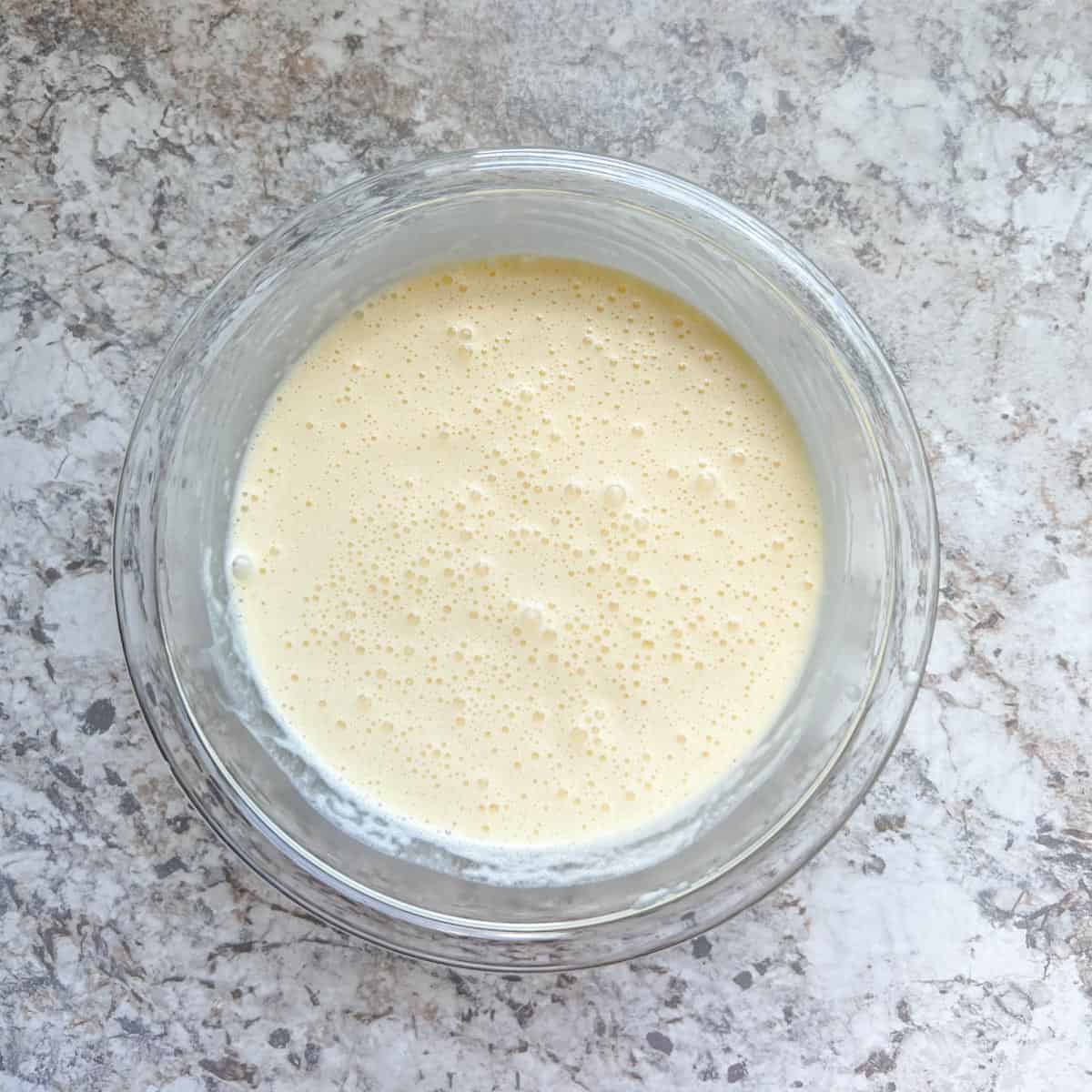 Add the heavy cream, maple syrup, and flavoring you are using. Stir until combined, (if you're doing chocolate you might need to whisk it to combine). Cover and chill for several hours or overnight.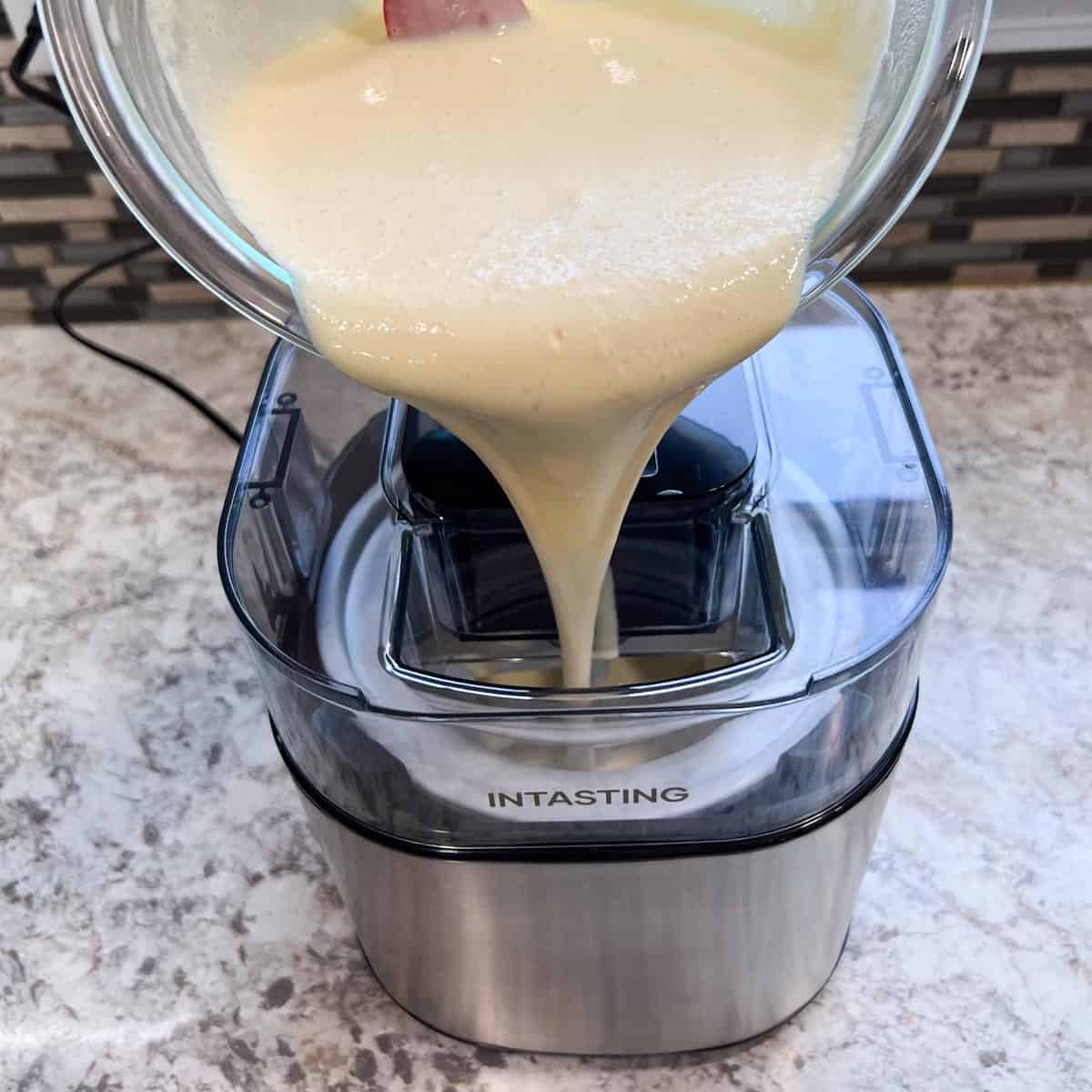 Freeze the ice cream mixture in an ice cream maker according to the manufacturer's instructions.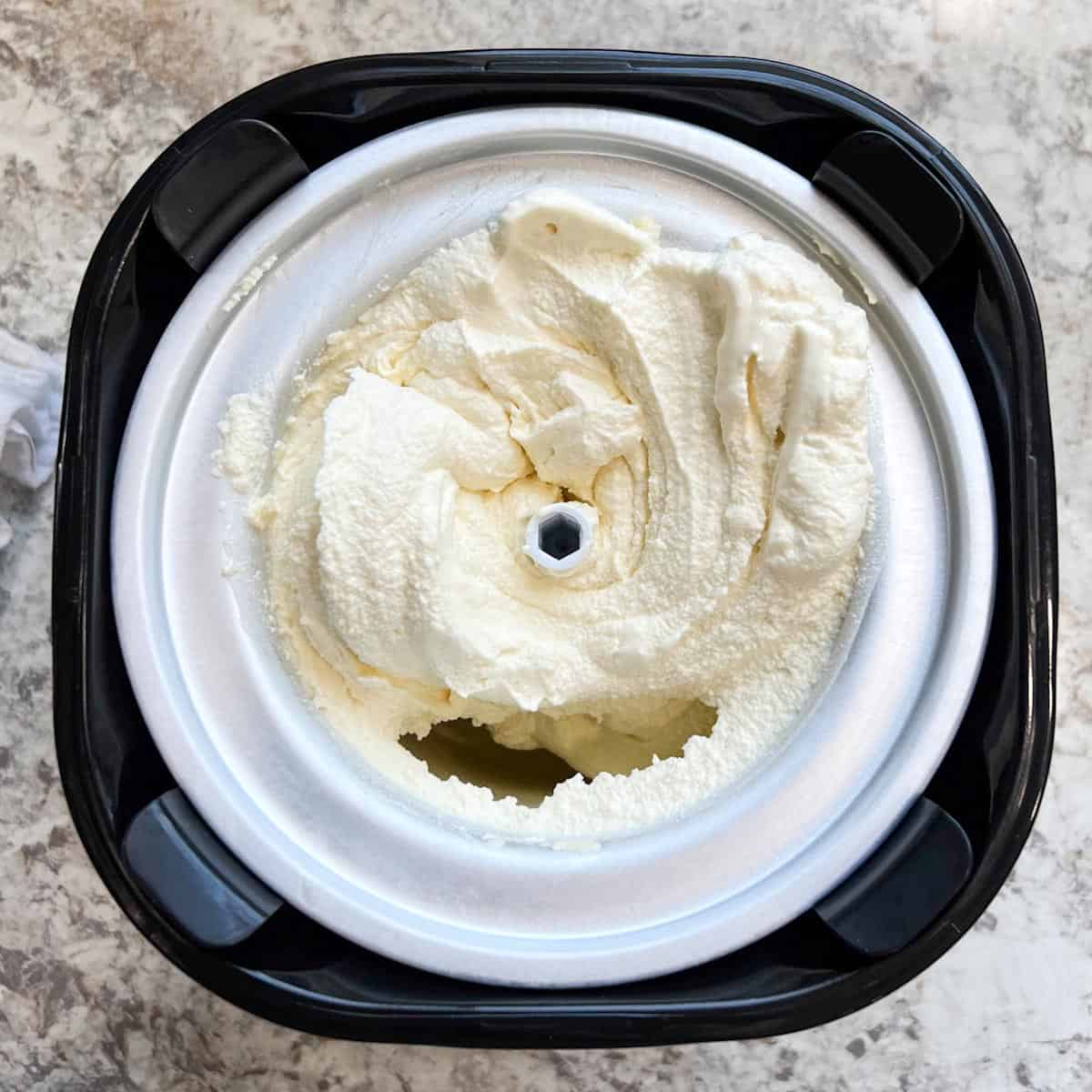 Serve immediately for soft serve style.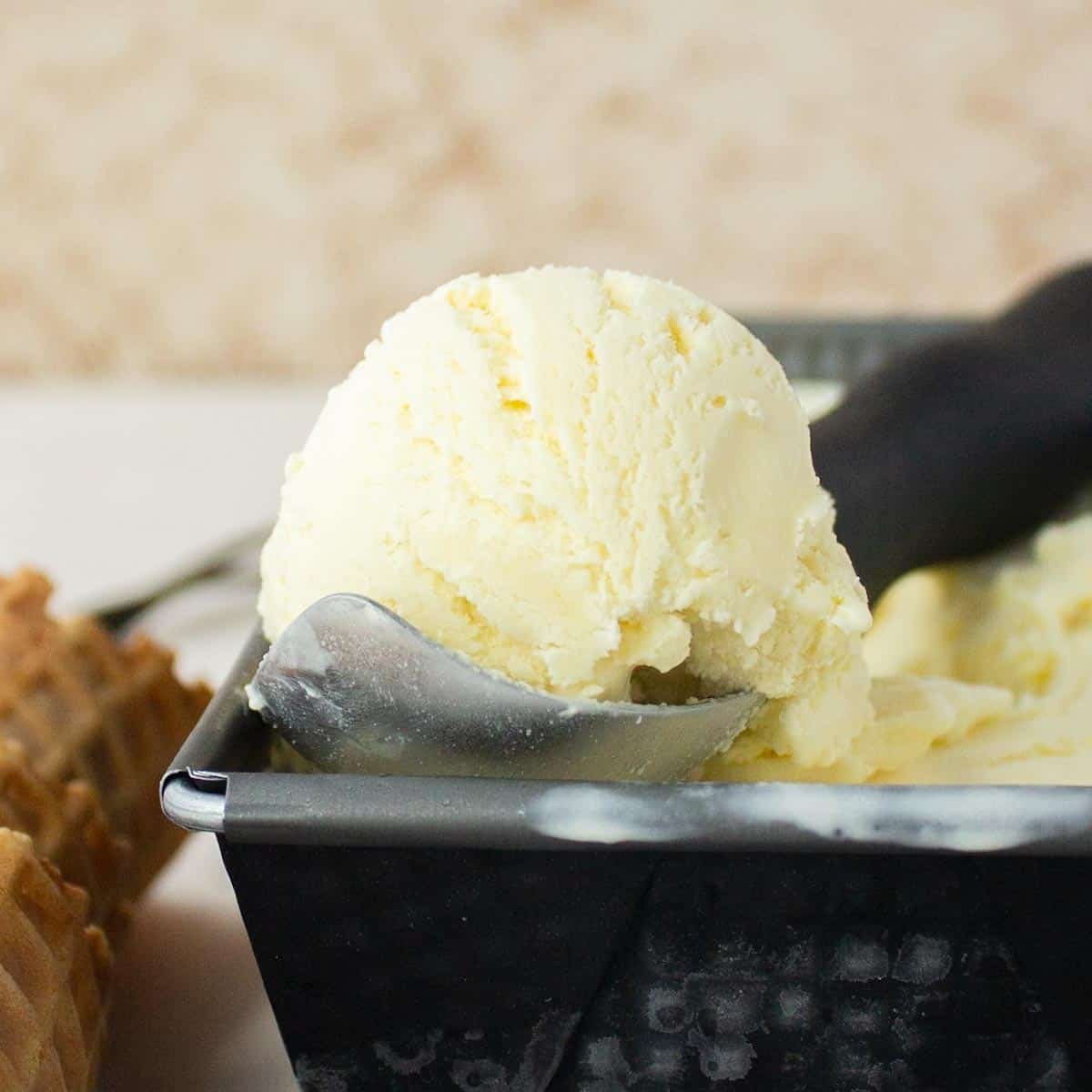 Place in a container, cover and freeze for a couple hours for a more firm ice cream.
Serving Suggestions
There are endless ways to serve ice cream, these are some of our favorites.
On its own, or in a cone
On top of warm fruit crisp
Adffogato (espresso over ice cream)
Root beer float
In a bowl with fresh fruit or fruit topping
With cake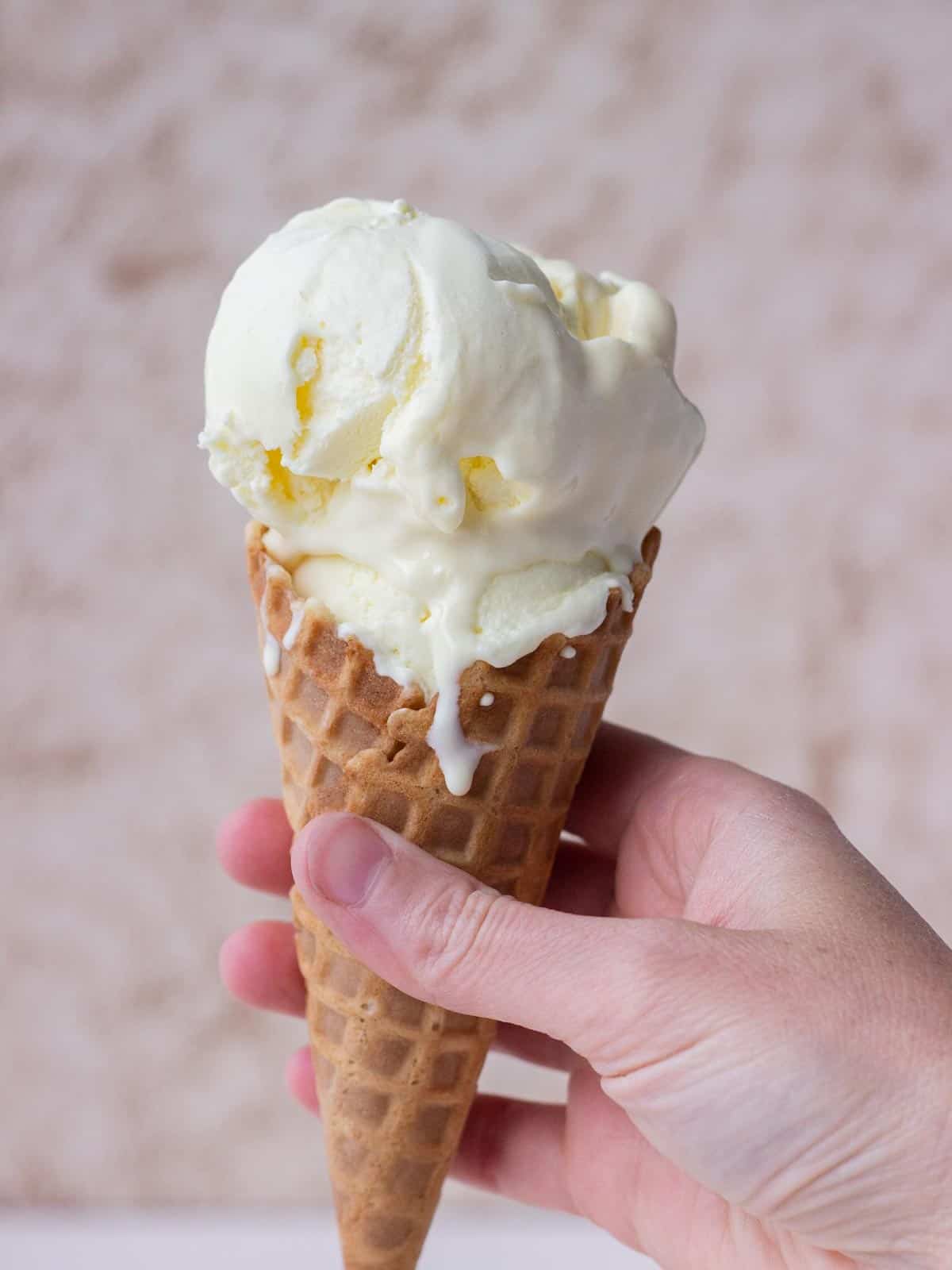 Storage
Loaf pans are popular for freezing ice cream, if you are going to eat it within a day or two that's great, but if you're storing it for any amount of time we suggest freezing it in an airtight container.
This ice cream will last in the freezer for about a month or until it's freezer burned, or starts tasting like the freezer LOL.
We recommend taking it out of the freezer a little while before serving because it tends to freeze quite hard.
Tips From Our Kitchen
Use cream with a high fat content like heavy cream.
Do not use low fat or reduced fat milk or you will have a lot of ice crystals in your ice cream. And it will turn to an absolute brick in the freezer.
Take the ice cream out of the freezer for 10-15 minutes, or put it in the fridge for 30-45 minutes before serving.
FAQ
Why does my ice cream freeze so hard in the freezer?
Because this is a low sugar ice cream it tends to freeze extra hard. Higher sugar content in ice cream helps keep it soft. 
Do I have to have an ice cream maker?
We have only made this recipe in an ice cream maker. If you want to try making it no-churn ice cream we would suggest whipping the cream to soft peaks, and folding it into the custard with the rest of the ingredients. Place it into the freezer and stir it every 30-60 minutes (we have not tried this method with this ice cream recipe, but we have done it with others).
Can you reduce the sugar in ice cream recipes?
Yes you can, it just might make the final product freeze harder. Just allow time for it to set out of the freezer before serving.
Can I use a sugar substitute?
We have not tried using any kind of sugar substitute and don't have experience with them so we can't recommend it.
Related Recipes
📖 Recipe
Low Sugar Ice Cream
If you're looking for an ice cream recipe that isn't packed full of sugar then this low sugar ice cream recipe is just for you. It is creamy and delicious. Serve it on top of desserts, in ice cream cones, or however you like.
Print
Rate
Servings:
8
½ cup servings
Ingredients
1

cup (240 grams)

Whole milk

2

large

Eggs

1-2

shakes

Salt

1

cup (240 grams)

Heavy whipping cream

¼-½

cup (84-168 grams)

Pure maple syrup

or organic granulated cane sugar*

1

tablespoon (15 grams)

Pure vanilla extract

for vanilla

2

tablespoons (12 grams)

Unsweetened cocoa powder

for chocolate

1

cup

Finely chopped strawberries

for strawberry
Instructions
Place a fine mesh strainer over a 1-1.5 quart container or bowl (this is important because you'll need to pour the mixture through immediately after cooking).

In a medium, heavy bottomed saucepan add the milk, eggs and salt, whisk until well combined and no streaks of egg remain.

Place over medium/low heat and cook, whisking constantly, until the mixture thickens enough to coat the back of a spoon. Immediately remove from the heat and pour through the strainer.

Add the heavy cream, maple syrup (¼ cup for vanilla, ⅓ cup for chocolate and ½ cup for strawberry) and whatever flavoring you are using (vanilla, chocolate, or strawberry). Stir until well combined.

Cover and refrigerate for several hours or overnight.

Freeze the chilled mixture in an ice cream machine according to the manufacturer's instructions.

Serve immediately for soft serve or transfer to a container with a lid and freeze for 2-4 hours more for a firmer ice cream.

Tip: Place the container you are going to use to freeze the ice cream into the freezer while the ice cream churns.
Notes
*If you are using granulated sugar, put it in with the milk and eggs before cooking.
If you don't want to chill the mixture overnight then you can cool it down in an ice bath. Place the bowl with the ice cream mix into a large bowl filled with ice and a little sprinkle of salt. Stir the ice cream mixture until it is cool to the touch.
Nutritional facts are calculated for the vanilla ice cream flavor.
Nutrition
Calories:
119
kcal
|
Carbohydrates:
8.8
g
|
Protein:
3
g
|
Fat:
7.6
g
|
Cholesterol:
66.5
mg
|
Sodium:
48
mg
|
Sugar:
8
g
|
Vitamin A:
95.7
IU
|
Vitamin C:
0.1
mg
|
Iron:
0.3
mg
We calculate these nutritional facts using an estimate and they can vary drastically between ingredients used and measuring technique. So, they are not intended for medical use.